ESAT News (April 26, 2017)
Regime security forces have arrested two former officials of the Somali region of Ethiopia for exposing the drought and the cholera outbreak that is ravaging the region.
Mubashir Dubadi former head of finance in Somali region and Muhammed Mahmmed former head of communications affairs were arrested on Tuesday in Addis Ababa and taken to a detention center in Jigjiga, the regional capital. It was learnt that the arrest was a joint operation by the Somali special forces and federal intelligence operatives.
Similarily, sources told ESAT that Roda Haji, a resident in the region, who gave an interview for the Somali Service of the Voice of America on the drought and cholera in the region, was detained by security forces. Roda told the VOA that her mother and two children have fallen victims to the disease outbreak.
The sources also said it was impossible to know extent of the drought and disease outbreak in the Somali region as the regime doesn't allow the media or any observers.
The Somali region is the most affected region by the current drought and a cholera outbreak that is affecting some 5.6 million people.
********************************************************************************
Al Shabaab kills two Ethiopian soldiers
ESAT News (April 26, 2017)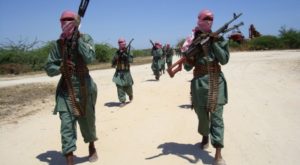 Al-shabaab said its forces have ambushed Ethiopian soldiers serving in the African Union Mission in Somalia (AMISOM) killing two.
According to Garowe Online dozens of al-Shabaab fighters attacked a military convoy on Wednesday in a remote area of Burdar, located 40 kilometers east of Beledweyne town, the regional capital of Hiiraan region.
"We were in state of fear and shock as both sides exchanged heavy weapons, including RPGs and machine guns during the gun battle," said a resident in Burdar village, where the attack took place.
The report said the number of casualties are not clear, but al-Shabaab claimed through their affiliated media that they have killed two Ethiopian soldiers and destroyed military vehicles.
Meanwhile, Somali Update Online reported that an Ethiopian official serving with the Intergovernmental Authority on Development (IGAD) has criticized Somali President Mohamed Abdullahi Farmajo for what he termed as 'disrespect' against Ethiopian forces serving in the African Union Mission in Somalia (AMISOM).
Haile Gebre, known in Somalia as "General" Gebre said in a tweet that the President "disrespectful' to the Ethiopian force with AMISOM during his visit to Baidoa. His tweets did not specifically mentioned what Farmajo did to disrespect the troops.
"General" Gabre attempted to get access to meet President Farmajo but he
was simply denied by Somali Presidential aides.   
Haile Gebre, the self-proclaimed IGAD official, is widely accused of arm sales to rival factions and collecting bribes from Somali politicians who want come to power in the previous Somali government.
But the new president of Somalia and his aides wouldn't give him their time of day, reports indicate.