The group of mainly men came to a performance by Kiros Asfaha, a well-known singer from the East African country. He regularly performs in Europe, where many Eritrean migrants have received a residence permit. The country is known under human rights movements as the "North Korea of ​​Africa." For that reason many people have fled the country, after Syrians, Eritreans are the largest group of asylum seekers in recent years.
In the Kristal auditorium on the Wegadreef next to the Utrechtsebaan,  a large group of people tried  to storm the room where the Asfaha concert took place around midnight yesterday . They tried to come in without a ticket. The situation became so dangerous that the concert was interrupted. The visitors who did have a ticket also got angry with this.
The police immediately went out with many units after the report that vandalism was committed around the room. Agents were then also pelted with stones. Police dogs were deployed for this, who put their teeth into several Eritrean perpetrators of violence.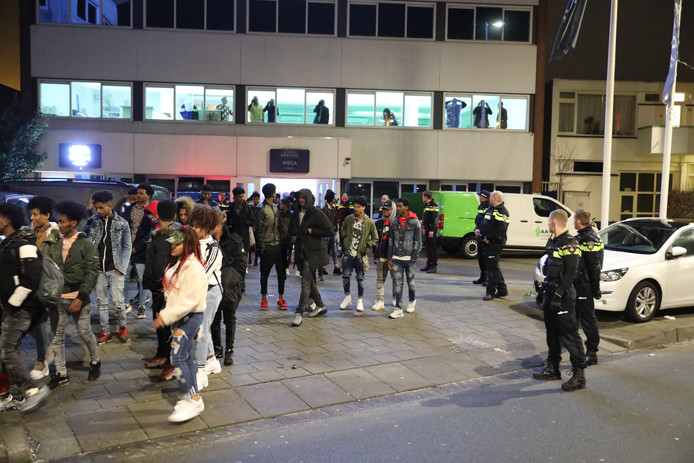 The Eritreans party is getting out of hand in The Hague. 
In total, five officers were wounded, all of whom were home again this afternoon. One servant had to be nursed in an ambulance. Three people were arrested for violence against aid workers, who were still detained today. A fourth suspect was caught in the collar due to vandalism.
"You cannot disturb such a party, but violence against agents is completely unacceptable
The police took pictures during the riots and does not exclude the possibility of further arrests. "You can't disturb such a party, but violence against agents is completely unacceptable," said a spokesperson.
If the perpetrators of violence have only been in the Netherlands for a short time (two thirds of the Eritreans in our country have lived there for no longer than four years), they run the risk of losing their residence permit. For violence against agents, a penalty that is twice as high is generally demanded. For throwing stones, justice usually requires one to two years in prison, so that requirement can now be doubled.
Central Station
After the riot, the Eritrean partygoers spread, some went to Central Station. "Probably to take a night train, but they don't go there," said the police spokesman. The station was full of police. The Dutch Railways used a special train to transport the people to Hollands Spoor station, from where they could travel out of the city.
The Crystal incident was not the only violence incident yesterday. Earlier that evening a man had been stabbed in a street robbery on Hobbemaplein, probably by two suspects. And in Zoetermeer three cars went up in flames, possibly due to arson. The police are investigating both cases. Today, a witness call may be spread over the stabbing.
V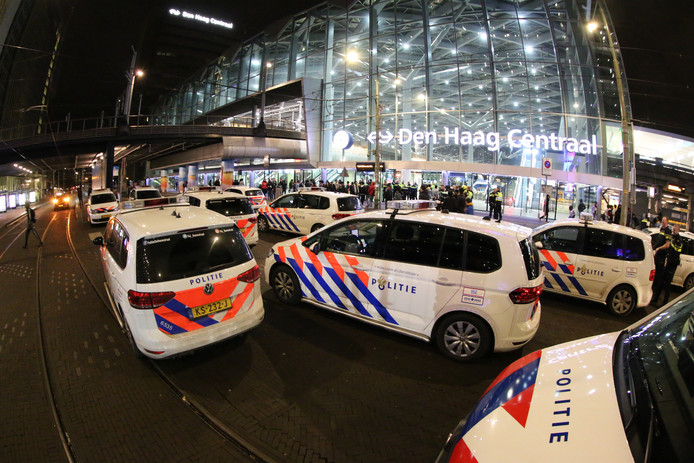 The police flocked out to keep people outside The Hague Central station.