by Vito Zita
SIENA. The Town Hall of Asmara, wanted by Governor Ferdinando Martini was initially housed in a villa in the former European district until the end of 1930 and later in a larger building in Denden Street, next to the Capitol Cinema, and remained here also during the period of 'British military administration. Only since 1951 has the Town Hall been housed in what was once the Government Palace, in a rationalist style. Little is known about the evolution of this building, the first project of which dates back to the late 1930s. This monumental building consisted of two floors, and was only finished in the early 1950s on a large area that was originally intended as a park at the southern end of the former Largo Puglie.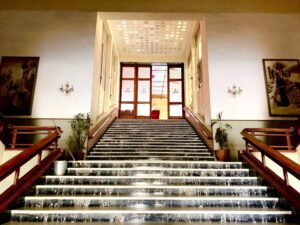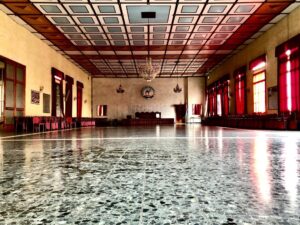 The first stage of construction included a basement, a ground floor and a first floor, in the center of which is the tower, with the recognizable balcony intended for public ceremonies, although it is doubtful that it was ever used for that purpose. Until 1940 some lictor beams were visible on the central tower, today removed.
The interiors, even today, are elegant and very impressive. An elegant marble staircase with wooden side rails starts from the main entrance, continuing inside the hall to the meeting room and upper floors. The beautiful official meeting room is located at the rear of the building and was inaugurated by Queen Elizabeth II in 1965. In 1971 a third floor was added and the tower was raised to match the proportions of the new building.
Outside the windows in the two upper floors are elongated, unlike those on the ground floor which are square in shape. The facade of the central body of the building and the adjoining tower is covered with green mosaic tiles with geometric motifs, and the window sills are of gray marble.
(Software translation)