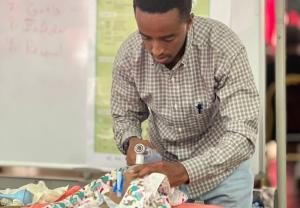 Eritrea is one of the first countries in the WHO/AFRO region that conducted the Training of Trainers (TOT) on coaching and mentoring on Essential care during Labour and Birth (ECL&B), Early Essential Newborn Care, and Safer use of oxygen during October 9-14, 2023. This was conducted with the leadership of the Ministry of Health, Eritrea, and the joint support of WHO, UNICEF and UNFPA both technically and financially. The technical support included the regional offices of the three UN agencies WHO, UNICEF and UNFPA using the recently published WHO updated management of Maternal and Essential Newborn Care documents.
As more than one-third of maternal deaths, an estimated 42·3% of stillbirths, and 11·6% of neonatal deaths result from complications during labour and childbirth. Most of these deaths occur in low-resource settings and are preventable through timely interventions. With the management and avoidance of unnecessary interventions, complications can be minimized. Across the continuum of care, improving the quality of care at the time of childbirth and the period immediately after birth has been identified as the strategy having the greatest potential impact on the reduction of stillbirths and maternal and newborn deaths.
Accordingly, this training on Essential Care During Labour & Birth, Early Essential Newborn Care and Safe Oxygen Use was organized. It is designed in modules of Helping Mothers Survive (HMS) Essential Care for Labour & Birth (ECL&B to help providers to give supportive care and close monitoring to women and improve the quality and experience of care for women and newborns during labour, birth, and the immediate postpartum period. ECL&B builds the capacity of the entire team of providers to give evidence-based, respectful care using the Low Dose, High-Frequency (LDHF) approach. Training occurs onsite and was conducted in Orotta referral hospital and Edaga Hamus Maternity Hospital, to improve communication and teamwork and to promote local problem solving with a key component of HMS of short set of LDHF skills practice and quality improvement activities done by providers after training day.
The trainees included medical doctors, senior midwives and maternal and newborn program managers and was facilitated by the MOH including the National Obstetricians and paediatricians in the country, WHO, UNICEF and UNFPA Regional and Country Offices. This is to empower the clinicians as well as the program managers in their daily work and mainly to cascade the training to all health workers in all regions and districts of the country.
After completion, a costed action plan was presented by each region and the three UN agencies guaranteed to support the plan. Certificates were awarded for the trainees and facilitators and necessary training materials were provided to the trainees to go to their respective regions and conduct this training.
The Ministry of Health appreciated the joint support and called for accelerated action and increased investments for Eritrea to meet the SDG targets by 2030 as has been done for MDG.
For Additional Information or to Request Interviews, Please contact:
MD, MSc Epidemiology
NPO ATM| FHP/CAH focal person
Program Support Cluster Coordinator
GPN Ext.: 34427
E-mail: zehaiea@who.int